B&B E-Paper No.2
  This e-paper provides not only Biofertilizers and Biopesticides development progress from industry, academia and government section, but also latest business information worldwide. The e-paper has been published quarterly since last October. Please don't hesitate to share your research and development achievement, news, industrial information or issues to all the readers around the world. We hope this e-paper can make sustainable agriculture's tomorrow better than today.
---
Latest R&D
Efficient solutions for rice straw burning problem
  In Taiwan, the decomposition of rice straw takes 45-60 days after harvest through simply chopped and mixed with soil without any additives. Taichung District Agricultural Research and Extension Station has developed an effective solution for this issue. The accelerating straw decomposition method, "a mix compound of microbial agents with rice straw-decomposing function", is using a mixture of multiple microorganisms, along with nitrogen, phosphoric anhydride, potassium oxide, magnesium oxide and other ingredients, which can accelerate rice straw-decomposing and efficient reuse. At 7-14 days after treatment, the straw turns brown and soften, which can increase the organic contents in the soil and raise up the yield for next grow season. The R&D result has already transferred technology to local companies, and three commercial fertilizers are available on the market.
| | |
| --- | --- |
| | |
| Fig. 1. After 7-14 days, the control group remains light brown and hard. | Fig. 2. At 7-14 days after microbial agents treatment, the straw becomes dark brown and soften. |
  Besides, Miaoli District Agricultural Research and Extension Station has spent 6 years studying "Miaoli No. 1". Miaoli No. 1 has some pratrical characteristic, including extremely high phosphorus-solubility, high-temperature, acid and alkaline resistance. Miaoli No. 1 can accelerate the decomposition of organic matter, and increase nutrient absorption and utilization from soil to plant. Therefore, the root growth and flowering of crops can become better. With these benefits, farmers can reduce the fertilization usage. Also, the yield increases, and so do the farmers' income.
| | |
| --- | --- |
| | |
| Fig. 1. Miaoli No. 1 shows strong solubilizing activity. | Fig. 2. After Miaoli No. 1 treatment, the yield has increased by 20~30%. |
  The rice straw-decomposing microbial agents and Miaoli No. 1 are already developed as commercial products in Taiwan. If you need any further information on commercial cooperation or product supply, please feel free to contact the editor, and regarding the application techniques ATRI also can assist if needed.
---
Subsidy measures
Biofertilizers and microbial pesticides subsidy for Taiwan's farmers
 In September 2017, Taiwan government announced a 10-year policy target for reducing the amount of chemical pesticide applied over the fields by half, a series of subsidies for biological control agents is provided for the purpose of reducing the dependence on chemical pesticides. On May 25, 2018, the "environment-friendly agriculture materials subsidy" was announced to promote the usage of environmentfriendly plant protection materials.
 The subsidies for biofertilizers and microbial pesticides specified for purchasing domestic licensed commercial products. In 2018, Taiwanese government budgeted NT$150 million for biofertilizers. From June 1, 2018, an additional NT$40 million of budget for microbial pesticides are added. Farmers could get a subsidy of 1/2 of the price that they purchased and a maximum subsidy of NT$5,000 per hectare. Taiwanese government will carry on the above-mentioned subsidy measures to farmers every year. (Note: NT$30 approximately equals US$1.)
The active ingredient of licensed commercial biofertilizers products in Taiwan:
Bacillus licheniformis
Bacillus safensis
Bacillus subtillis
Bacillus mycodies
Bacillus amyloliquefaciens
Candida guilliermondii
Bacillus subtilis Y1336
The active ingredient of licensed commercial microbial pesticides products in Taiwan:
Bacillus subtilis WG6-14
Bacillus subtilis Y1336
Streptomyces candidus of Y21007-2
Trichoderma viride R42
Bacillus amyloliquefaciens PMB01
Bacillus amyloliquefaciens BPD1
Bacillus amyloliquefaciens YCMA-1
Bacillus amyloliquefaciens CL3
Bacillus mycoides AGB01
Trichoderma asperellum ICC 012
Trichoderma gamsii ICC 080
Bacillus thuringiensis
Nuclear polyhedrosis virus
Bacillus thuringiensis subsp. kurstaki ABTS-351
Bacillus thuringiensis subsp. kurstaki E-911
Beauveria bassiana A1
Bacillus thuringiensis subsp. aizawai NB-200
Industry news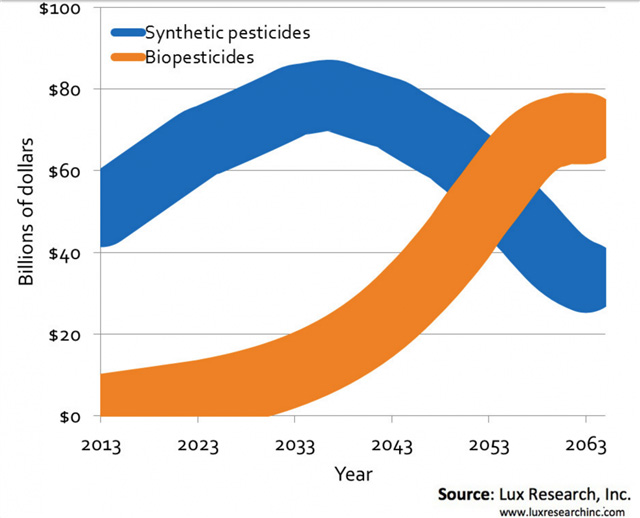 In Taiwan, there are three categories of biopesticides: natural product pesticides, biochemical pesticides and microbial pesticides. All the safety assessment data by the GLP laboratory should be submitted for pesticide registration since July 1, 2018. Currently, a total of 55 biopesticide licenses has been issued in Taiwan, including 4 natural product pesticides, 9 biochemical pesticides and 42 microbial pesticides.
  Among all 42 biopesticides, Bacillus thuringiensis which consists 23 kinds has the most, followed by Bacillus subtilis that consists of 10 kinds. By late June in 2018, there are 33 biofertilizer licensed products, 30 of them are phosphate solubilizing bacteria, 2 of them are potassium solubilizing bacteria, and 1 of them is arbuscular mycorrhizal fungi.
Taiwan Seed Products of Fruit and Vegetables
  Taiwan is located off the southeastern coast of Asia continent, where the Tropic of Cancer passes through the middle of Taiwan. The various weather phenomena in this island brings the best field trial locations to breed new plant varieties which may overcome climate changes.
  Thanks to competitive and advanced agriculture technology, Taiwan Seed Enterprises develop various high quality seeds suitable for different environments; especially for tropical region, recognized at the international level. "Taiwan Seed Service" is an online B2B platform where you can find seeds that match your interest. The list of seed product covers Brassicaceae, Cucurbitaceae, Solanaceae, Papaya and Sweet Corn, as well as ornamental and green manure crop seeds.
  "Taiwan Seed Service" provides information for global participants about trade regulations and excellent Taiwan seed products. We expect this platform to become a channel for farmers and distributors around the world to obtain high quality seeds and grow better vegetables.
Editor's Contact
Hsiu-Fen Lin,Ph.D.
Department of Plant Technology Laboratories.
Agricultural Technology Research Institute (ATRI)
No.1, Ln. 51, Dahu Rd., Xiangshan Dist., Hsinchu City 300, Taiwan R.O.C.
Tel: +886-3-5185157
​